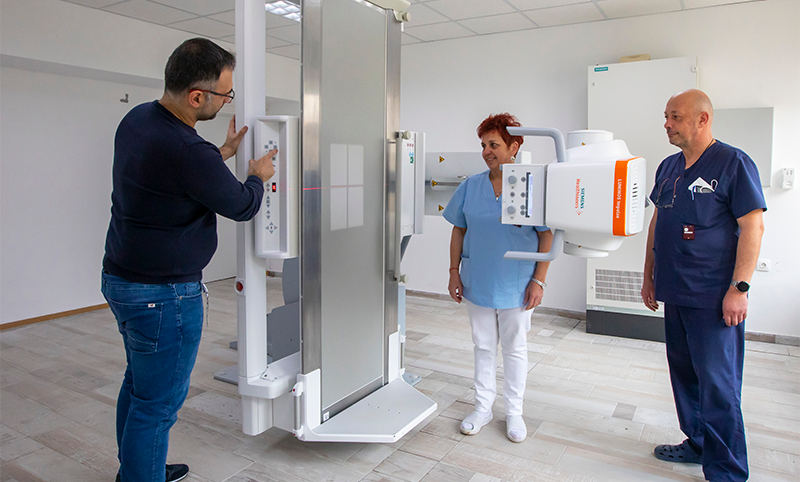 Etropole Hospital receives new x-ray equipment under Bulgarian Virtues Programme
GEOTECHMIN GROUP continues to fulfill its responsible role in supporting social-impact initiatives in the regions where it operates. Through
Bulgarian Virtues Charity Programme
, a modern high tech X-ray machine was donated to Prof. Dr Alexander Gerchev Hospital in the town of Etropole. The brand new equipment has already been installed at the hospital. This fully digital fluoroscopy and radiography system is one of the first of its kind delivered in Bulgaria.
The X-ray room was fully refurbished to accommodate the new equipment, which has already successfully passed all acceptance tests in the Diagnostic Imaging Department. Siemens Healthcare EOOD have trained medical staff how to work with the digital X-ray system in strict compliance with all safety and emergency procedures. The apparatus will be put into operation after obtaining a permit
The new state-of-the-art imaging equipment causes minimal radiation exposure to patients and staff working in the department. It also provides superior image quality and immediate digital images which will offer patients shorter appointments and mean that results are available sooner. Currently, Prof. Dr Alexander Gerchev Hospital is using an outdated X-ray machine. When it is not working, patients have to travel to other towns for this scanning service.
'I am so delighted that the upgraded X-ray machine is up at the hospital. It is quicker and produces high quality images for both fluoroscopy and radiography exams. The previous apparatus was used to serve more than 1,450 inpatients and nearly 3,000 outpatients sent by their GPs annually,' said Dr Galya Vasileva, Director of Prof. Dr Alexander Gerchev Hospital in the town of Etropole.
The new facility will deliver significant benefits, particularly for those patients traveling to Etropole from other towns and villages. 'So far, we have had patients from the towns of Teteven, Yablanitsa, Pravets and Botevgrad,' explained Dr Vasileva.
Prof. Dr Alexander Gerchev Hospital has 8 departments, 135 employees, 35 of whom are doctors. Annually, about 3,000 patients undergo medical treatment at the hospital in the town of Etropole.