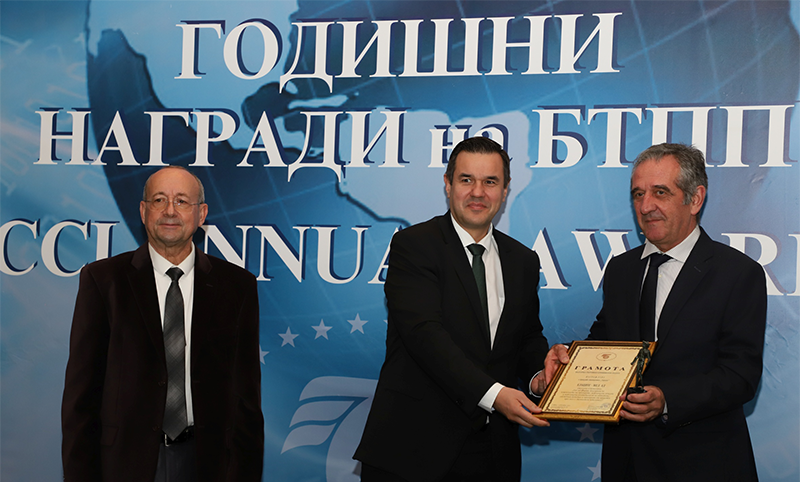 Ellatzite-Med AD wins first prize in BCCI Annual Awards
The Bulgarian Chamber of Commerce and Industry presented its 29th annual awards in the ranking "Top 100 Companies leading in the Bulgarian economy" at an official ceremony in the Sofia Hotel Balkan on 1 December 2022. Minister of Economy and Industry Nikola Stoyanov awarded Ellatzite-Med AD the first prize in the category "TOP 100 companies ranked by alteration of sales revenue, maximum value of net profit and maximum value of profitability of assets, equity and sales in 2021 (complex indicator)".
The prize includes an Honorary Diploma and a Hermes Bronze Statuette made by the artist Stavri Kalinov and based on an ancient sculpture of the Greek god Hermes.
'I gratefully accept this award on behalf of Ellatzite-Med team as appreciation for the efforts of all those working in the company to ensure its sustainable development,' thanked M.Eng. Dragomir Draganov, Executive Director of the company.
'Despite the difficult 2021, among many crises and challenges, you managed not only to stay on the market but also to advance your business,' Minister Nikola Stoyanov addressed the business representatives. 'I think that all Bulgarian companies deserve an award because in these arduous times they have shown that they cannot just survive, be flexible and innovative, but also managed to conquer new markets,' said the Minister of Economy announcing that at current prices in 2021 Bulgaria's GDP has increased by more than BGN 18 billion compared to 2020.
The President of the Management Board of BCCI Tsvetan Simeonov emphasized the Chamber's efforts to consistently assist the Bulgarian business despite the crises ˗ the pandemic, the war in Ukraine, the increase in energy prices, etc. 'The times need us to inspire optimism and today's meeting has set this objective. BCCI is proud that Bulgaria has maintained its good macroeconomic indicators. Let us have the courage to face the difficulties and move the economy forward,' he added assuring that BCCI will continue working to find new partners and investment opportunities, and provide its expertise to companies in the future.
The "Top 100 Companies leading in the Bulgarian economy" ranking is recognisable and popular among the business audience. BCCI used a combination of indicators to determine the leading companies.