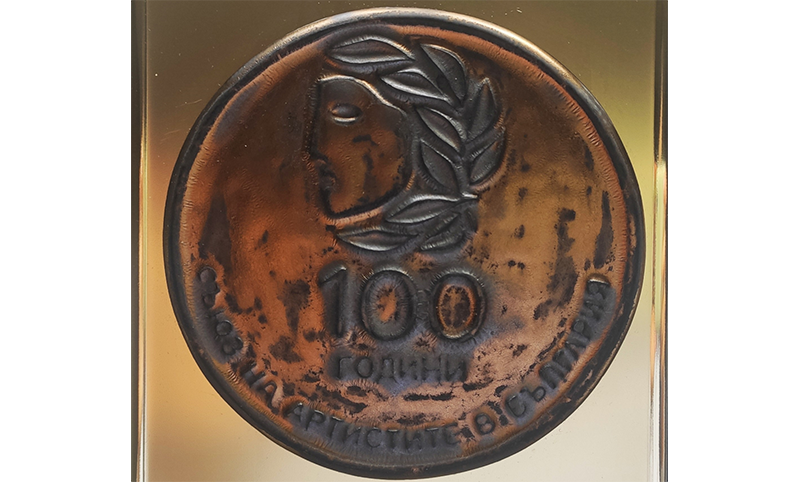 Union of Bulgarian Artists Awards a Badge of Honour to Prof. Voutov
Prof. DSc. Eng. Tzolo Voutov, President of 
Geotechmin OOD
, was awarded the Badge of Honour of the Union of Bulgarian Artists (UBA). The prize was presented by UBA's Chairman Hristo Mutafchiev in recognition of Prof. Voutov's support to ICAR 2022, Sofia Theatre Saloon and social causes for Bulgarian artists implemented under the Bulgarian Virtues Charity Programme of GEOTECHMIN GROUP. Mr Hristo Mutafchiev also expressed his special gratitude to Dr. Eng. Ivan Vutov, Chairman of
Geotrading AD
Board of Directors for the support. The Badge of Honour was accepted by Mr Dominic Hamers, Executive Director of Geotechmin OOD, at the official ICAR 2022 National Awards Ceremony.
'Thank you for standing beside us in these hard times for the world and for Bulgaria, and for supporting Sofia Theatre Saloon and ICAR 2022 National Awards! Thank you for your genuine concern and empathy to all artists and colleagues, and for our joint efforts to help them in these challenging times! Thank you for being with us!' said Mr Hristo Mutafchiev.
At the ceremony, Mr Dominic Hamers presented the ICAR AWARD 2022 for Outstanding Contribution to Music to the singer Mimi Nikolova. On stage, he announced that Bulgarian Virtues Charity Programme of GEOTECHMIN GROUP was launched to voluntarily support socially significant causes and initiatives. They are focused on preserving Bulgarian spiritual values; supporting art, education and science; preserving the country's intellectual potential; creating better and more sustainable infrastructure; enhancing nature conservation in Bulgaria, etc. 'Among the causes we have been supporting in 2022 are Sofia Theatre Saloon and ICAR Awards, because we strongly believe in the thriving talents of the Bulgarian performing artists,' said Mr Hamers.