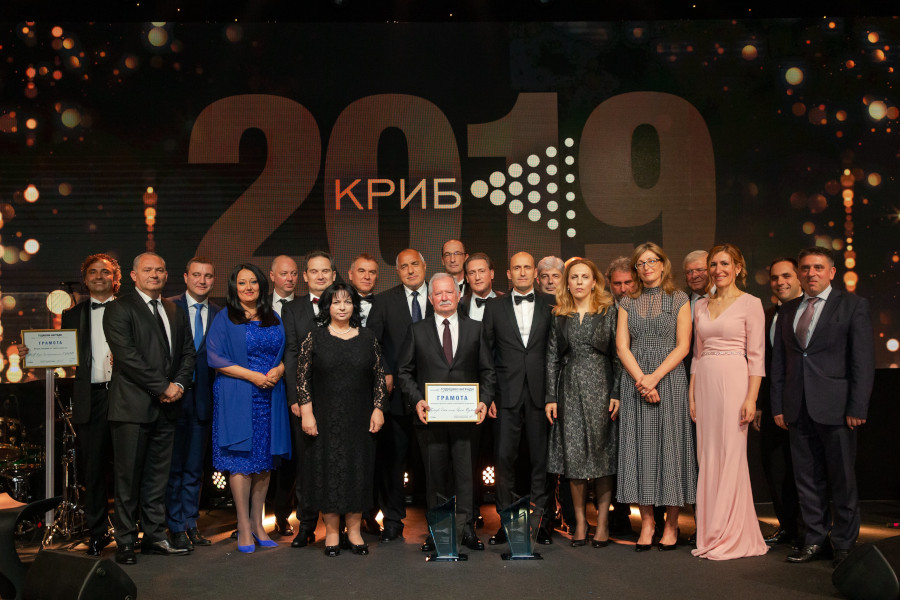 Prof. Dsc. Eng. Tzolo Voutov is honoured with Krib's special award for overall contribution to the Bulgarian economy
On 4 June 2019, the President of Geotechmin OOD Prof. DSc. Eng. Tzolo Voutov received the special award of the Chairman of the Confederation of Employers and Industrialists in Bulgaria (KRIB) for overall contribution to the development of the Bulgarian economy. The prize was conferred to the President of Geotechmin OOD 'for long-term investments and growth, job preservation and creation, innovation and contribution to scientific and social activities.' The Chairman of KRIB Mr Kiril Domuschiev presented the award during the Fifth Annual Ball hosted by the employers' оrganization. The event was held under the patronage of Prime Minister Boyko Borisov and was attended by Deputy Prime Ministers Mrs Ekaterina Zaharieva and Mrs Mariana Nikolova, 12 ministers, chairpersons of parliamentary committees, as well as Sofia Mayor Mrs Yordanka Fandakova. According to tradition, KRIB also awarded distinguished companies with annual prizes for quality, innovation and growth in Bulgaria.
'I am so glad I know most of you and a large part of the serious business in Bulgaria – the business which is not in the gray market (…), the business which has been building, overbuilding, growing and expanding beyond Bulgaria's borders for many long years. (…) Taking into consideration everything he has done to preserve and upgrade the Bulgarian mining industry, I have no hesitation in choosing this remarkable man for this award. Congratulations!' said the Chairman of KRIB addressing Prof. DSc. Eng. Tzolo Voutov.
Prof. Tzolo Voutov expressed his sincere gratitude to the Chairman of KRIB and the entire organization, his team, the government, and his family. 'I would also like to thank the teams standing behind me, working side by side with me. All of them deserve this honor because without them, I would not be standing here today. Looking back, we have overcome so many obstacles and real challenges which have made us a united team. Looking ahead, there may be other obstacles in our way which we will overcome together for one cause, for Bulgaria's brighter future!'
Prof. Voutov expressed his deep appreciation to the Prime Minister and the Bulgarian government for the positive investment climate facilitating the best conditions for business development. 'Last but not least, I would like to thank my family who have always supported me and continue to support me,' he said.
The event was attended by Mr Ivan Vutov, PhD – Vice President of Geotechmin OOD and Deputy Chairman of KRIB, Mr Dominic Hamers, M.Eng. Dragomir Draganov, as well as other representatives of the management teams of GEOTECHMIN GROUP's companies.