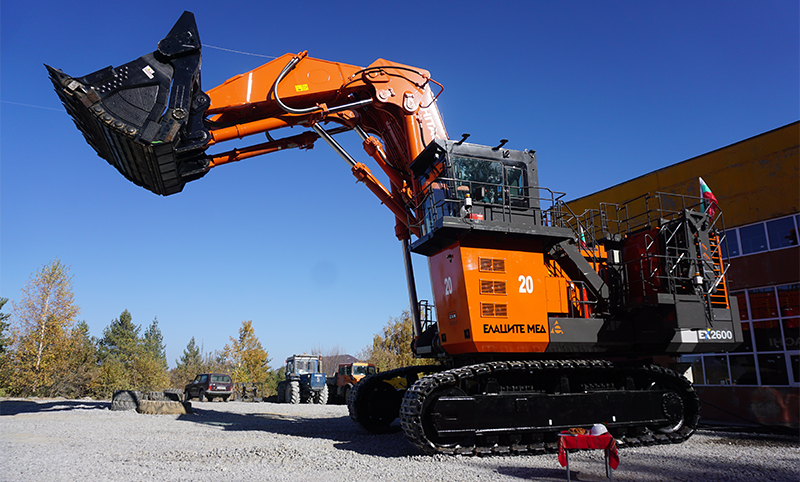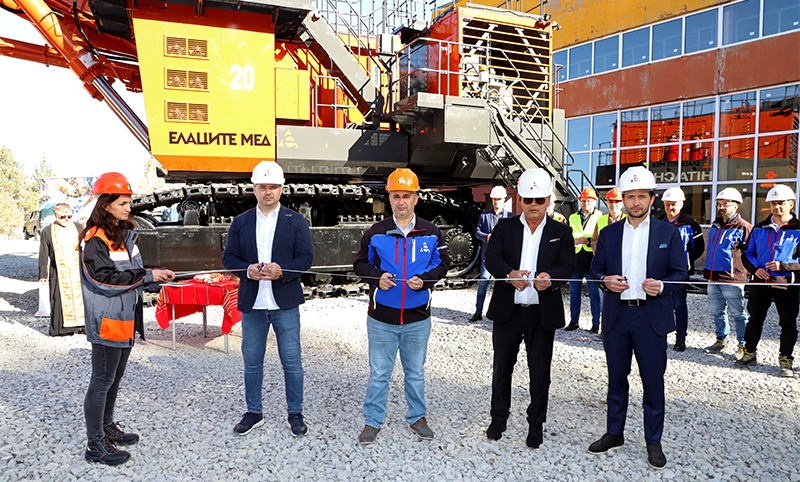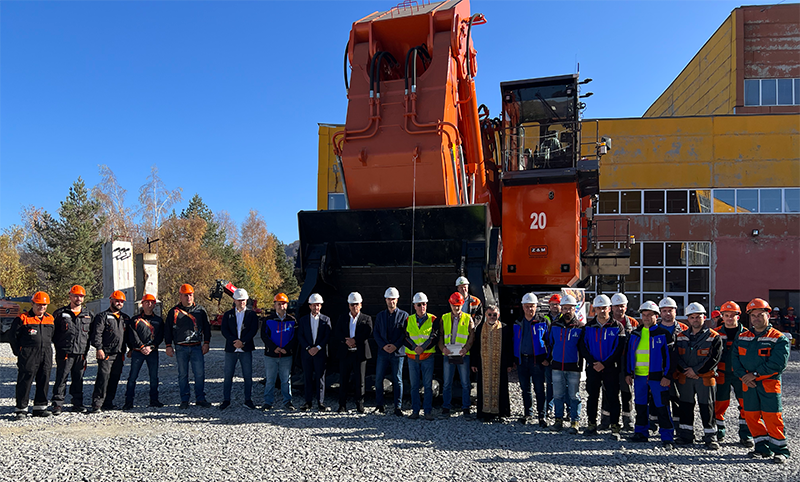 New Hitachi electric drive hydraulic excavator started working at Ellatzite Mine
A new Hitachi EX2600E-6LD electric drive hydraulic excavator was put into operation in Ellatzite Mine. The successful commissioning of the mining excavator was consecrated by a solemn water blessing ceremony on 2 November in the Mine Complex of
Ellatzite-Med AD
. The gigantic excavator weighs 248 t, it has an electric motor and is equipped according to the latest energy optimising technologies, which contributes to more efficient production, lower operating costs and zero CO2 emissions.
The event was attended by M.Eng. Stoil Dimitrov ˗ General Director Production, M.Eng. Slavey Ivanov and M.Eng. Georgi Petrov ˗ Deputy General Directors Production, M.Eng. Ivaylo Nikolov ˗ Director of Ellatzite Mine Complex, and many other directors and employees of Ellatzite-Med AD.
Among the official guests attending the opening ceremony were PhD Eng. Ivan Vutov – Vice President of Geotechmin OOD and Chairman of the Board of Directors of
Geotrading AD
, Mr Nikolay Mladzhov – Manager of Z&M Private Co. Ltd, Mr Nikolay Tevekelov – Operations and Sales Manager at Z&M Private Co. Ltd, Mr Krasimir Dekov – Deputy Commercial Director and Mr Plamen Kostadinov – Head of Investment Purchases Department at Geotrading AD.
With a solemn prayer, Father Emil Yakimov from Etropole Monastery served a water blessing of the team wishing them good health and trouble-free operation of the new mining equipment. 'The purchase of the new electric excavator is another significant investment made by Ellatzite-Med. From the ecological point of view, the excavator generates zero CO2 emissions, but it is also much more cost-efficient and safer to maintain and operate,' said M.Eng. Ivaylo Nikolov in his welcoming speech at the event. According to tradition, the newest acquisition for Ellatzite-Med was officially inaugurated by cutting a tricolor ribbon by PhD Eng. Ivan Vutov, Mr Nikolay Mladzhov, M.Eng. Stoil Dimitrov and M.Eng. Ivaylo Nikolov.
Investment in modern highly mechanised low-emission mining fleet is part of Ellatzite-Med's efforts to minimize environmental impact. The new Hitachi EX2600E-6 LD excavator is tailored to operate under the specific conditions in Ellatzite mine. It is cost-efficient, CO2 emission-free and does not use petrol. All controls in the cab are within easy reach, which leads to greater operating efficiency. The excavator has a 15 m3 loading bucket and 14 m horizontal outreach. Furthermore, the company has invested in purchasing other heavy electric equipment ˗ mostly excavators, mining drill rigs, and dump trucks. In 2022, Ellatzite-Med purchased new machinery in the Mine Complex: a bulldozer, 3 mining drill rigs, 6 dump trucks with a diesel engine-generator and electric motors, as well as other types of machines with active exhaust gas regeneration and AdBlue systems.