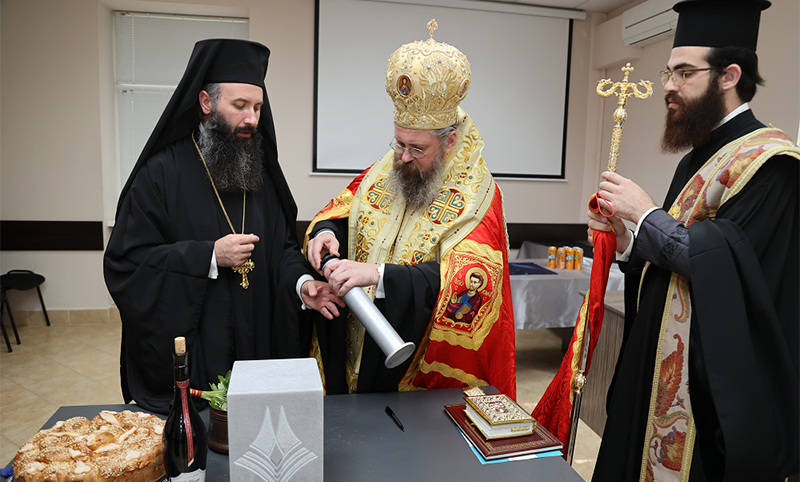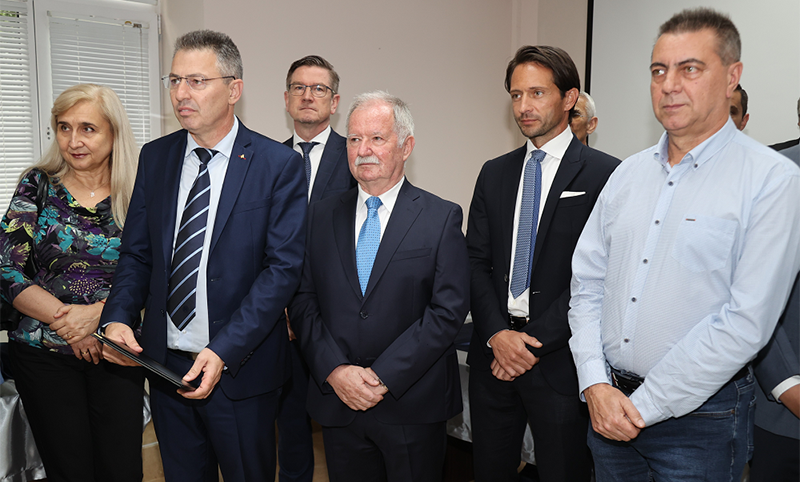 Geotechmin Group donates to build a new chaple at UMG through Bulgarian Virtues programme
GEOTECHMIN GROUP supports the construction of a new chapel at the University of Mining and Geology "St. Ivan Rilski" (UMG). The modern sanctuary will sit at the heart of the university campus and will bear the name of UMG's patron – Saint Venerable Ivan Rilski, a spiritual protector of the Bulgarian people and the patron saint of miners, geologists and all workers in the mining industry. The solemn water-blessing ceremony and laying of the foundation stone were rendered on 14 June by His Eminence Bishop Polycarp of Belogradchik, Vicar of the Metropolitan of Sofia. The symbolic first sod was turned by the Rector Prof. Dr. Eng. Ivaylo Koprev and the trustees Prof. DSc. Eng. Tzolo Voutov – President of Geotechmin OOD and Prof. DSc. Eng. Nikolay Valkanov – Chairman of the Board of Directors of Minstroy Holding AD.
"For us, the University of Mining and Geology is not only a place for academic education, but also a spiritual centre where we strive to cultivate honour, dignity, honesty and mutual aid. We are a community united by these core virtues. It is no coincidence that the oath each of us takes as we cross the threshold of the university says: 'I swear to respect our colleagues and help them, to honour and appreciate our teachers, to enhance and protect the reputation of the university,'" said the Rector Prof. Dr. Eng. Ivaylo Koprev in his welcome speech for the guests attending the event. He thanked the donors, among whom besides GEOTECHMIN GROUP were Minstroy Holding, Dundee Precious Metals and Assarel-Medet.
Furthermore, Bishop Polycarp consecrated a time capsule filled with a message to future generations and a hand-painted icon of St. Ivan Rilski donated by Prof. DSc. Eng. Tzolo Voutov and GEOTECHMIN GROUP. The Bishop made strong wishes for the new chapel to be built up properly and as soon as possible.
Prior to the groundbreaking ceremony, diplomas were awarded to scientists and lecturers who had completed their doctor's degrees and obtained the academic ranks Chief Assistant Professor and Full Professor. The Vice-Rector of UMG Prof. DSc. Irena Grigorova also received her diploma.