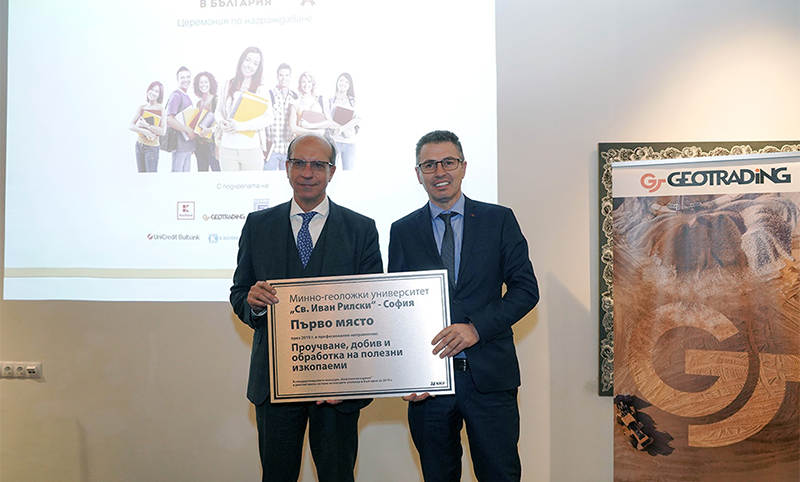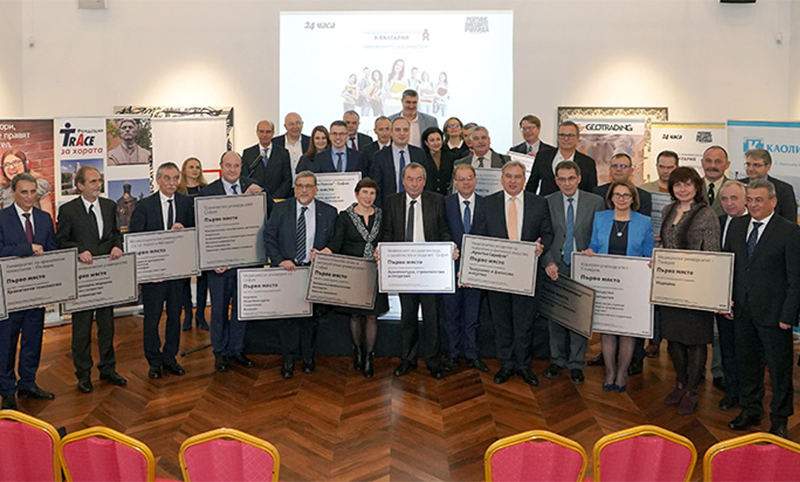 The executive director of Geotrading AD presents the University of Mining and Geology with an award
Mr Ivan Donchev, the Executive Director of 
Geotrading AD
, presented Prof. Ivaylo Koprev, PhD, engineer, rector of the St. Ivan Rilski University of Mining and Geology, with an award at a ceremony celebrating the achievements of the best universities in Bulgaria. The event supported by Geotrading AD was organised by the 24 Hours Daily and aimed to rank universities based on the rating system designed by the Bulgarian Ministry of Education and Science.
Mr Donchev presented the first-place award in the Exploration, Processing and Mining of Minerals professional strand to the University of Mining and Geology and proceeded to thank the university for the quality training it offers to future workers in the sector.
'Business has to step in and support the development of young people in Bulgaria. This is why Geotrading has joined forces with three other companies in the GEOTECHMIN Group and set up a scholarship programme in partnership with the University of Mining and Geology. We aim to offer the students selected the best possible conditions to enable them to build on their academic knowledge by gaining hands-on experience in our companies,' Mr Donchev highlighted.
'This award stands as a symbol of the symbiosis that exists between science, businesses and education,' Prof. Koprev noted.