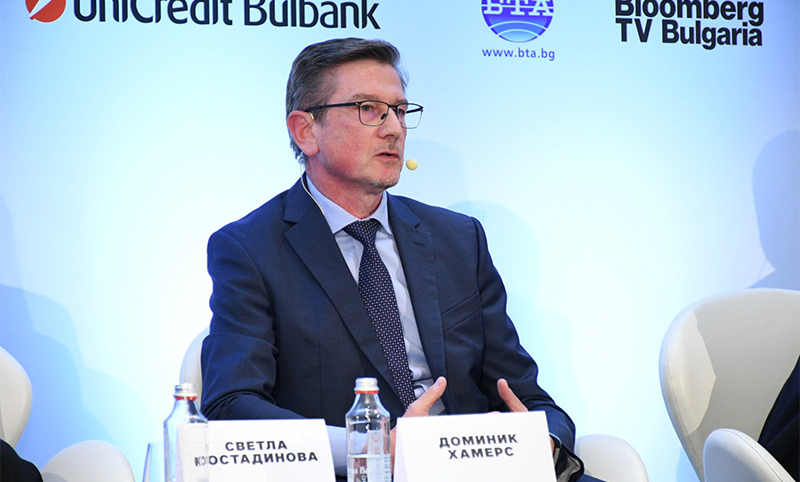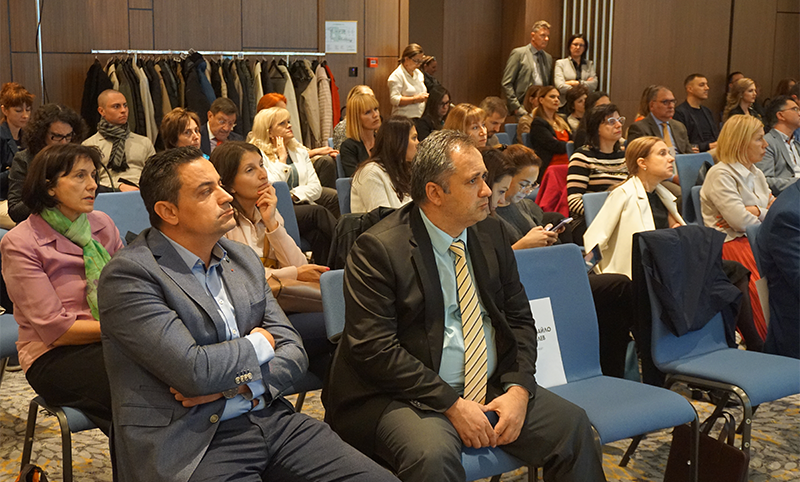 Dominic Hamers takes part in discussion on the value-adding role of Business for the Regions
'85 percent of our employees and workers come from the regions where we do our main business ˗ Etropole Municipality and the municipalities of Srednogorie region, according to the latest data from the Institute for Market Economy. The minimum condition for a region to develop is to have a responsible investor operating sustainably and in the interest of all stakeholders,' said Mr Dominic Hamers, Executive Director of Geotechmin OOD at the conference "Business and the Regions – Changed Bulgaria" organised by BGlobal Magazine and the Bulgarian Chamber of Commerce. He participated in the plenary discussion "Business with Added Value – Social Dimensions".
Mr Hamers added that the largest company in the group ˗ Ellatzite-Med AD ranks 40th among Bulgaria's top employers and among the largest taxpayers, with part of these taxes being returned to the municipalities where the company operates. The second important aspect is the measures undertaken by the company to reduce the environmental impact of its production activities, and the third one – the direct impact on improving quality of life in the municipalities by implementing GEOTECHMIN GROUP's corporate social responsibility programmes. These programmes date back to the beginning of the millennium and so far more than 1,000 socially significant causes have been implemented in over 20 municipalities. The Bulgarian Virtues Charity Programme, which was founded by Prof. DSc. Eng. Tzolo Voutov in 2018, builds upon the commitment to benefit society. Under the programme, four companies –
Geotechmin OOD
,
Ellatzite-Med AD
,
Geostroy AD
and
Geotrading AD
, signed framework agreements with 5 municipalities in the region where they operate. As a result, a large number of projects of key importance for local communities have been implemented. Among them are the general overhauls of schools, kindergartens, health centres, street lighting systems and many other causes which local municipalities were unable to perform alone at the beginning of Covid-19 pandemic. 'More than 70 percent of the municipalities' residents evaluate positively the effect of the programme,' said Mr Hamers.
The discussion has been held for the third consecutive year and the emphasis this year is on the challenges facing businesses and local authorities in the changed economic environment and the added value of large, strategic investors for the development of regions. Among the speakers were Svetla Kostadinova, Executive Director of IPI; Tim Kurth, CEO of Aurubis Bulgaria; Iliya Garkov, Senior Vice President of Dundee Precious Metals for Europe; Ivaylo Georgiev, Head of Public Affairs at Aurubis Bulgaria; Georgi Mikov, Executive Director of Power Distribution Networks West, part of the Electrohold Group; Boyan Rashev, Managing Partner at Denkstatt Bulgaria; representatives of Asarel-Medet, municipalities, etc. Dobri Mitrev, Chairman of the Board of the Bulgarian Chamber of Commerce participated in the event on behalf of the organisers, and Radan Kanev, MEP, Rapporteur on the EU Directive on Industrial Emissions attended the forum via video link.