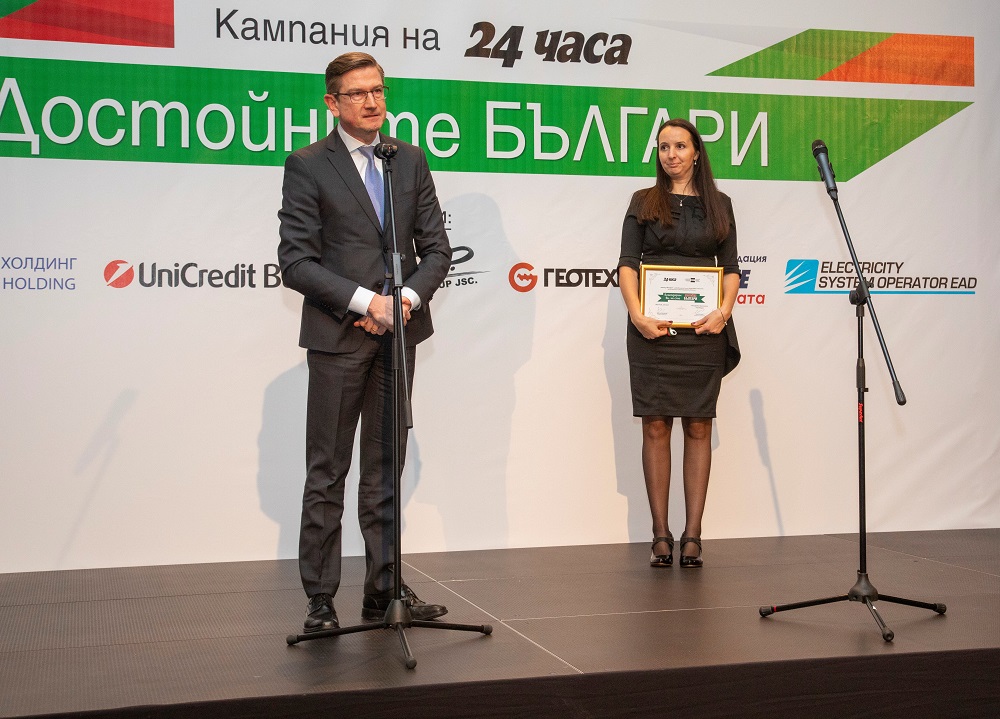 Dominic Hamers presents award at Worthy Bulgarians 2021 ceremony
For the 19th consecutive year, the 24 Chasa Daily newspaper has recognized the Worthy Bulgarians – our noble compatriots with big hearts who helped poor, ill and disaster-stricken people, defended good causes and saved lives. For another year,
Geotechmin OOD
has supported the initiative giving publicity to stories about ordinary people with tremendous courage and integrity whose deeds evoke pride in every Bulgarian. The company's Executive Director Mr Dominic Hamers presented the award to the charity organization Angels for Bulgaria. It is a non-profit organization uniting Bulgarians living abroad who want to help needy compatriots in Bulgaria.
'It is a great honour for me to present this award to Angels for Bulgaria. The bounteous activities of this organization show that there are no country borders for doing good deeds. Bulgarians living abroad help their countrymen in their homeland, thus proving how deeply they hold Bulgaria in their hearts. Keep supporting such worthy causes for Bulgaria!' said Mr Hamers when presenting the award to Mrs Milena Toncheva, Financial Director of the non-profit organization.
Angels for Bulgaria helped more than 4,000 people, raised over BGN 200,000 as donations from compatriots abroad, built 28 kids' corners in hospitals across the country. 'More than 2 million Bulgarians live abroad and they all love Bulgaria and want to see how our grandparents live in better conditions and all children have a better future. I am so grateful on behalf of the Bulgarian citizens abroad!' said Mrs Toncheva. The event was attended by the Prime Minister of the Republic of Bulgaria Kiril Petkov and the Prime Minister of the Republic of North Macedonia Dimitar Kovachevski. They awarded the fireman David Galabov who won the prestigious prize for a second time in the Worthy Bulgarians campaign. He was honoured 4 years ago for his participation in extinguishing the fires in North Macedonia. In December 2021, David Galabov went through a heavy fire and rescued newborn babies from a burning apartment in the town of Blagoevgrad, for which he was awarded again at Worthy Bulgarians 2021.
The Bulgarian Prime Minister handed out awards to the Golden Girls from the National Rhythmic Gymnastics Ensemble, who had become Olympic champions, to their coaches and to the President of the Bulgarian Rhythmic Gymnastics Federation. Mr Kiril Petkov also awarded two 4th grade students who had earned and donated their money to a single mother whose son has motor skills disorder.