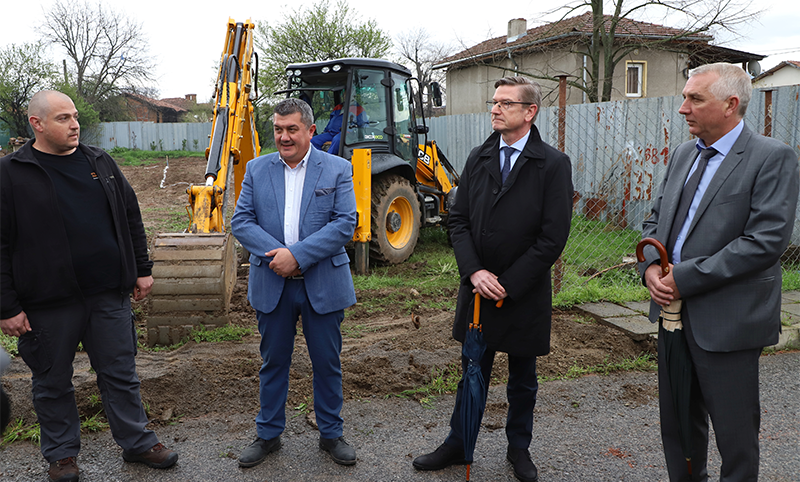 Chavdar Municipality builds a new Municipal Guest Centre with donation by Bulgarian Virtues Programme
Chavdar Municipality commenced the construction of a new Municipal Guest Centre which will help attract more tourists to the picturesque sub-Balkan village. On 25 April 2023, a groundbreaking ceremony was held to celebrate the start of construction of a massive 3-storey building in the village of Chavdar. Scheduled to open in 2024, the new centre will provide more accommodation options and flexible, fully-equipped spaces for business meetings and awesome social events. The companies
Geotechmin
,
Ellatzite-Med
,
Geostroy
и
Geotradign
support the project through Bulgarian Virtues Charity Programme.
The project will have clear outcomes and impact, including new job openings and 30 additional beds. The centre will be a prefect venue to host a wide variety of community and business events. It will offer food and accommodation for tourists visiting local landmarks, as well as provide service learning opportunities and outdoor adventure by conducting "green" schools. Visitors to the companies operating in Srednogorie region will always be welcome to stay there as well. According to Mayor Grigor Daulov, the project has added value, as it will create more employment opportunities in the service sector.
'We are celebrating the start of a new project of major importance for local tourism and the municipality's sustainable development. It is interesting to hear how the idea for a new municipal guest centre was born and the contribution made by UACEG students to the preparation of the preliminary design,' said Mr Dominic Hamers, Executive Director of Geotechmin OOD. He also noted, 'We are delighted that with our Bulgarian Virtues Programme, founded by Prof. DSc. Eng. Tzolo Voutov and four companies from GEOTECHMIN GROUP, we can contribute to the cause of welcoming more guests and organising community events that boost social life in the village.'
The first phase of the project is scheduled to be completed by the end of 2023.