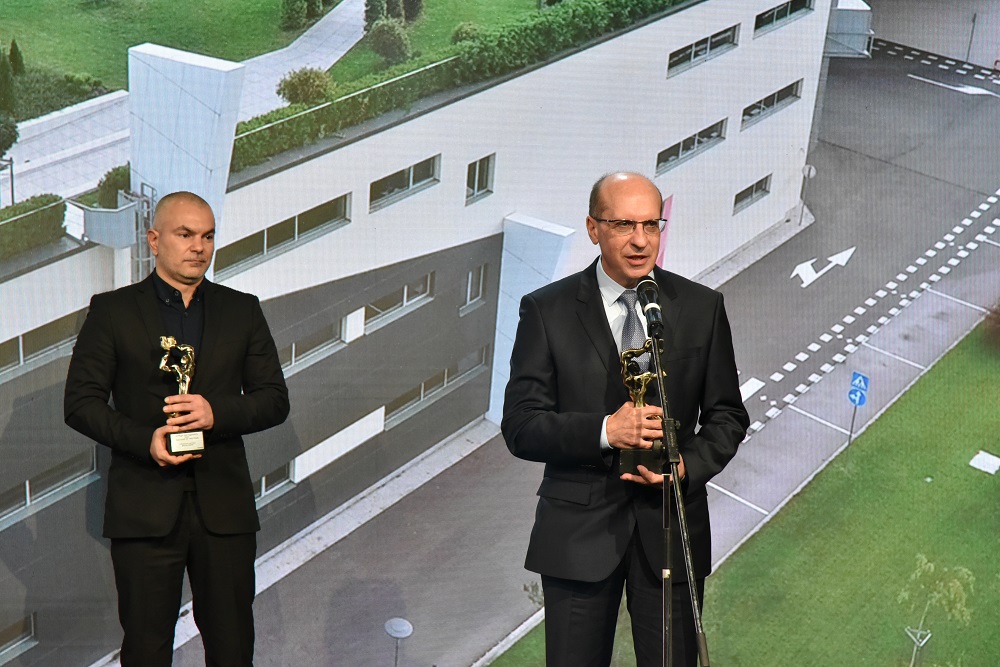 ProAuto Multifunctional Complex wins Building of The Year 2021 Award
ProAuto Multifunctional Complex has won the Special Prize at the national contest Building of the Year 2021. The award winners are two of GEOTECHMIN GROUP companies – the investor 
Geotrading AD
and the main contractor 
Geostroy AD
, and the project architect Kiril Kutskov. The prize – an appreciation certificate and a statuette made by the sculptor Petko Moskov – was presented at an official ceremony held on 15 December 2021.
'I would like to express my sincere gratitude to the main contractor Geostroy AD, to Architect Kiril Kutskov and all our partners who took part in the construction of this amazing green complex certified to the BREEAM 2013 standard,' said Mr Ivan Donchev, Member of the Board of Directors of Geotrading AD upon receiving the award. On behalf of Geostroy AD, the statuette was received by M.Eng. Yordan Yonov, Chief Construction Engineer at the company.
For the companies from GEOTECHMIN GROUP, the award is a high appreciation for the exquisite design and top quality construction of ProAuto Multifunctional Complex. In June 2021, the complex was certified to the British BREEAM 2013 Standard with a "Very Good" rating. The design, construction and operation of ProAuto Complex are fully complied with environmental sustainability criteria, and responsibly sourced ecofriendly materials were used in accordance with all BREEAM requirements. Renewable energy sources provide 44.3% of the energy consumption in the complex. There is exuberant greenery on the territory of the complex – 8,404 m2 have been covered by various plant species. Several eco-friendly solutions have been implemented in the complex and excellent conditions for work and rest have been created for the employees.